Feb 10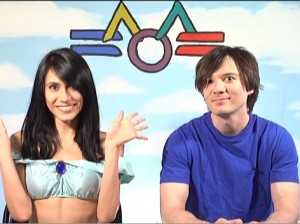 The Beginning
In the early days of 2009, Steve Racer was invited to be a guest at Anime LA. It was his first time being a guest at a convention. While he was there he got to meet lots of other cool voice actors, among them Cristina Vee.
Steve wanted her to play one of Leesys' personalities for his animated web comic, The Great Space Race. She did some recordings for him, and they also became friends. Then, Steve got this crazy idea for a web TV show called Anime Olympics, and Cristina said, "I'm in!"
The rest, as they say, is history.
The Show
Anime Olympics is a show where we review anime, talk about anime, make jokes about anime, and also do just about anything we want. Because it's our show. There's variety and silliness, including segments like: Storytime with Cristina, Popsicle Stick Anime, and talking with our favorite sock puppet, Spoiler Snake.  We also have interviews and segments with other anime voice actors, such as Kyle Hebert and Julie Rei Goldstein.  Each episode is only limited by our imagination. Well, and our budget. And Steve's editing skills. But still, mostly our imagination.
The Crew
Production Assistants:
Naomi Augustine
Quang "Q" Bui
Victor Sugoi
Costume Consultant:
Marissa Ashcraft