May 30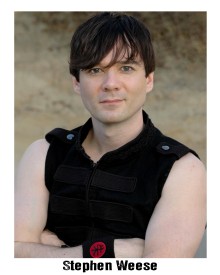 Stephen Weese (aka Steve Racer) is a film and voice actor, a screenwriter, and a musician. He is a huge anime fan, dating back (of course) to Speed Racer which he watched every day before kindergarten.
His lone anime voice role was the SWAT team leader in Hellsing OVA #3. However, he has done voices for commercials and audio dramas, including Spirit Blade II. He was an extra in the latest Star Trek film, playing a blue shirt Enterprise crewmember. He has several film credits on IMDB and has created his own short films and music videos.
He is the creator of the web comic, The Great Space Race, and also directs a ministry for Christians who like anime, sci-fi, role playing, and the like: Fans for Christ. His book, God Loves the Freaks, is available on Amazon.